WETA CEO Rockefeller Names Corporate Finance Executive to Post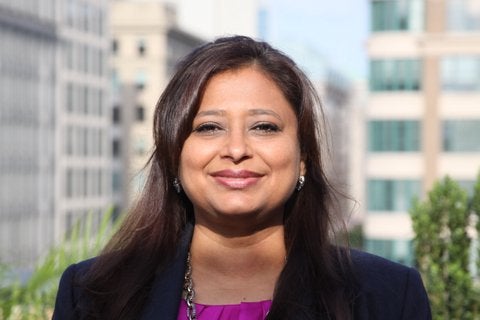 ARLINGTON, VA, December 16, 2021 — WETA President and Chief Executive Officer Sharon Percy Rockefeller announced today that Ruby Goyal Aggarwal has been named chief financial officer, senior vice president and treasurer of WETA, heading financial operations for the region's flagship public broadcaster. When she takes the post on February 1, 2022, Aggarwal will report to Rockefeller and work closely with Executive Vice President and Chief Operating Officer Jason R. Daisey, the WETA Board of Trustees, and the WETA executive management. As treasurer of WETA and its subsidiary NewsHour Productions LLC, Aggarwal will oversee the finance, accounting, and building and facilities operations while providing executive-level fiscal and operational counsel for the organization.
"Jason and I are very pleased to welcome Ruby to our executive management team. She is an excellent match for WETA," said Rockefeller. "A dynamic manager with exceptional financial experience, she also brings an understanding of public media, complex operations and long-term strategic planning that will benefit our multifaceted institution as we continue to expand our services to the public." 
"I am delighted to join this inspiring team. WETA has built an extraordinary culture of creativity and community connection," Aggarwal said. "As a native Washingtonian who grew up watching WETA and remains an ardent fan, I am delighted to be part of the organization's future growth and to contribute to its important mission."
Aggarwal brings strong financial expertise, with a deep understanding of non-profit and media organizations to the complexities of a creative telecommunications company and highly valued non-profit institution. Aggarwal spent a decade at O'Connor Consulting Services, most recently as a director, providing high-level consulting strictly to the non-profit community. In this role she worked with non-profit organizations ranging in size from $5MM to $500MM by providing high-level support as a trusted business partner, serving in the interim CFO role, and assisting with projects ranging from board-literacy training, 990 and audit preparation, finance department assessments, internal control assessments, endowment reconciliations and process documentation. Aggarwal formerly ran her own consulting firm and worked in finance at media organizations including PBS; Fox Television Stations, Inc.; and NewsChannel8. Aggarwal is a licensed CPA and CGMA and earned her BS in accounting with a minor in business administration from the University of Maryland. She resides with her family in Lorton, Virginia.
About WETA
WETA is the flagship public media station in the national capital area. For fiscal year 2021, the company had an operating budget of $113.6 million, more than 300 employees, and over 147,000 contributing members. WETA is the second-largest producer of new content for public television in the United States and home to news and public affairs programs including PBS NewsHour and Washington Week; films by production partners Ken Burns and Dr. Henry Louis Gates, Jr.; documentaries that include Asian Americans and Latino Americans; and specials including In Performance at the White House, A Capitol Fourth, and the Library of Congress Gershwin Prize for Popular Song. WETA serves the District of Columbia, Maryland and Virginia with content that educates and inspires on five television channels: WETA PBS, WETA UK, WETA Metro, WETA World; and WETA PBS Kids; on weta.org; and on the Classical WETA radio station and at classicalweta.org. Local programming and digital content created by WETA celebrates the people and history of the region through series including If You Lived Here and Politics and Prose Live; documentaries such as Washington in the 2000s and Arlington National Cemetery; and the Classical Breakdown and Telly Visions podcasts. WETA creates a trove of trusted resources, including Well Beings — a multiplatform, multiyear campaign that addresses critical health needs in America through storytelling, conversations and events. The organization's public-service websites ReadingRockets.org, ColorinColorado.org, LDOnLine.org, AdLit.org, StartWithABook.org and BrainLine.org provide resources surrounding child development, literacy, education and the brain. WETA, licensed to the District of Columbia to serve the Greater Washington community, has its headquarters and production studios in Arlington, Virginia. WETA leadership values the experiences and perspectives of a diverse workforce and strives to showcase meaningful representation of different voices and perspectives in all aspects of the work we do. More information on WETA programs and services is available at weta.org. Visit facebook.com/wetatvfm on Facebook or follow @WETAtvfm on Twitter.